A new signature model with a series of tweaks
Neville Marten, Thu 5 Mar 2009, 4:10 pm GMT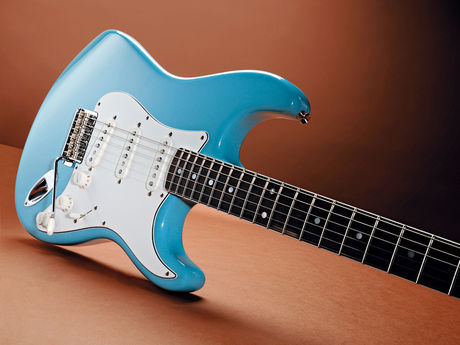 Any mention of Eric Johnson invariably – and perhaps rather tediously for Johnson himself – concentrates on his status as a tone-hound of legendary credentials.

It will inevitably state how he goes through his equipment microscopically, making sure the polarity of each internal component faces the same direction so the current passes as smoothly as possible. Mention is unfailingly made of his preference for battery power over mains, while his predilection for Duracell is reiterated.
Thankfully, writers do then go on to talk about his astounding musicianship and an almost unfeasible knowledge of what makes great guitar tone. But sometimes it's forgotten just how into guitars and amps Johnson truly is – to the point where he probably knows as much about Strats as the people at Fender, and could likely give Marshall's amp engineers a run for their money.
"Even though you'll need to re-learn how to use a Strat to some extent, we can heartily recommend it."
Most importantly, some ignore the fact that Johnson's love for detail is never for the sake of it, but to extract the last drop of musicality from whatever equipment he chooses. So a signature Stratocaster, spec'd to Eric's exact requirements and built by Fender – whose reputation for quality is currently better than it's ever been – warrants close inspection here.
Of course this isn't the first EJ Signature Strat. We loved Eric's original, all-maple-neck model for its balance of vintage vibe and modern playability.
We were bowled over by the attention to detail that Johnson personally brought to bear over all aspects of its design and production; the two-piece alder body with deeply scooped contours, the delightfully smooth neck-to-headstock shaping and the thin-skin nitrocellulose finish.
All these features from the previous instrument have been retained for the current one. Others that have also been carried over include the slimmer headstock design and staggered-height tuner posts that negate string trees; Johnson-voiced pickups with a tone control on the bridge single-coil; and no vibrato cavity cover – Eric reckons they sound better without it and who are we to argue?
more