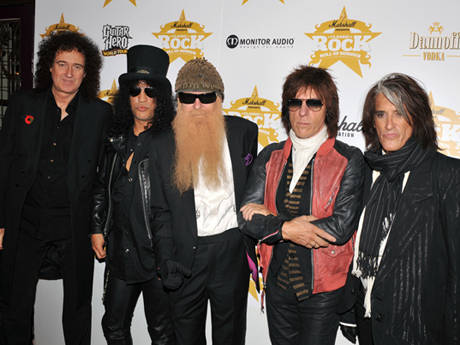 "It's quite an experience to be in a room packed with almost every one of your heroes" said Joe Bonamassa in accepting the Breakthrough gong at last night's Classic Rock Awards. It's a sentiment we have to admit to sharing.
On arrival at last night's awards – hosted at London's regal Park Lane Hotel – MusicRadar was greeted with an awesome barrage of celebrity the likes of which we'd never seen.
Look, there's Slash! There's Ronnie Wood! Pete Townshend! Brian May, Jeff Beck, Billy Gibbons, Tony Iommi, Jimmy Page, Ginger Baker! These were people whose music we'd grown up listening to – bona-fide rock legends we'd idolised as kids, now all together under one roof.
The atmosphere was genuinely electric. An hour in and all the star guests had arrived - the party was now in full swing. Drinks were being quaffed, old bandmates reunited and glamorous young women apparently hired to look glamorous, young and, well, like women were being, erm... politely accosted by a '60s rock 'n' roller we shan't name. (His girlfriend kept an eye on him though – we guess you can't always get what you want.)

Marshall Classic Rock Roll Of Honour 2009 – full list of winners
Best New Band
Voted for by readers of Classic Rock magazine
Sponsored by Mean Fiddler
Winner: Chickenfoot

Album Of The Year
Voted for by readers of Classic Rock magazine
Sponsored by Universal Catalogue / Lost Tunes
Winner: AC/DC Black Ice
Band Of The Year
Voted for by readers of Classic Rock magazine
Sponsored by Guitar Hero
Winner: Iron Maiden

Best Reissue
Voted for by readers of Classic Rock magazine
Sponsored by Live Nation
Winner: Black Sabbath Reissues
DVD / Film Of The Year
Voted for by readers of Classic Rock magazine
Sponsored by Play.com
Winner: Anvil! The Story of Anvil

Event Of The Year
Voted for by readers of Classic Rock magazine
Sponsored by Alchemy
Winner: Download Festival
Outstanding Contribution
Chosen by a Classic Rock Judging Panel
Sponsored by Monitor Audio
Winner: Ronnie Wood

Tommy Vance Inspiration Award
Chosen by a Classic Rock Judging Panel
Sponsored by Rhino
Winner: John Bonham

Innovator
Chosen by a Classic Rock Judging Panel
Sponsored by Eagle Rock
Winner: Ginger Baker

VIP Award
Chosen by a Classic Rock Judging Panel
Sponsored by Dannoff Premium Vodka
Winner: Doc McGhee
Metal Guru
Chosen by a Classic Rock Judging Panel
Sponsored by Bravado
Winner: Biff Byford
Spirit Of Prog
Chosen by a Classic Rock Judging Panel
Sponsored by Planet Rock
Winner: Dream Theater
Marshall 11 Award
Chosen by a Classic Rock Judging Panel
Sponsored by Marshall
Winner: Billy Gibbons
Childline Rocks Award
Winner: Steve Harley
Classic Songwriter
Chosen by a Classic Rock Judging Panel
Sponsored by Sony Music
Winner: Paul Rodgers
Classic Album
Chosen by a Classic Rock Judging Panel
Sponsored by Provogue
Winner: Aerosmith Rocks
Breakthrough
Chosen by a Classic Rock Judging Panel
Sponsored by Rock Radio
Winner: Joe Bonamassa
Comeback Of The Year
Chosen by a Classic Rock Judging Panel
Sponsored by EMI Music
Winner: Mott The Hoople

Living Legend
Chosen by a Classic Rock Judging Panel
Sponsored by Marshall
Winner: Iggy Pop
courtesy @ musicradar