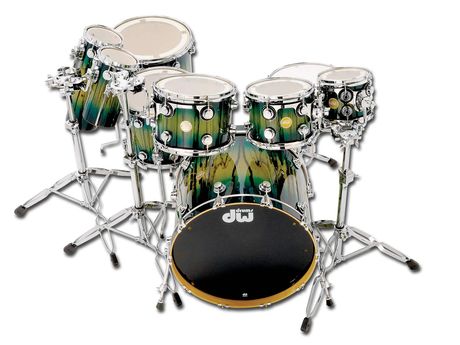 Collector's Series X Shell kit
specification :
Price:
£543
Colour:
Any DW Collector's Series finish
Drum Shell Material:
North American hard rock maple
Floor Tom Size:
14"x12" (£748) and 16"x14" (£913)
Kick Size:
23"x18" (£1493)
Snare Size:
14"x6" (£573)
Tom Size:
8"x7" (£543 ), 10"x8" (£584) and 12"x9" (£641) / Rata drums: 6"x18" and 6"x12" (both £552)

Drum Workshop began life as a hardware company (a fact reflected in its class-leading stands and pedals) and expanded into drum manufacture in the late 1980s. Since then it's progressively strengthened the brand, earning a reputation for constantly evolving designs. DW's newest drums – dubbed X Shells – represent a departure from the accepted norms of drum construction. The clue's in the name people…
Build
If you're familiar with existing DW drums you may well recognise the acronym VLT. It stands for Vertical Low Timbre and describes a manufacturing process by which the outer and inner plies of a drum run vertically. Drums have to be cross-laminated for strength – at 90° to one another – but keeping the outer and inner plies vertical places less stress on a shell, giving it a lower fundamental tone.
In theory, a shell made up of exclusively vertical plies would possess enormous amounts of bottom-end. In reality, such a shell would not be strong enough to be fitted with heads.
more